When WHOO in Orlando swtched to a country format in the summer of 1968, I headed for WKGN in Knoxville for the 4-7pm shift. We were the feed station for the University of Tennessee Football network with our manager George Mooney doing the play-by-play. I got to attend several UT games that fall to cheer for the 1967 national champions. I also got to MC a pep rally and wear the bright orange blazer.

It seemed a little wei
rd for a boy from Kentucky who attended UK to stand in front of 20,000 sreaming crazy UT fans and get them riled up. 

The WKGN studo was in an old store on Cumberland Ave. next to the UT campus. I'll never forget the one old toliet with a door that closed with a hook and eye latch and had a stack of Playboys for entertainment. Next door was "Brownie's" resturant where you could get a plate of white beans and cornbread.

It was awesome to be on the air with real radio personalities  like "Doctor" Al Adams, Jim Clark, Adrian Charles and Bob Baron. Bob and I decided we had to get to a station that paid the majic salary of $200 a week. He made it to KEEL in Shreveport and I headed for WPOP in Hartford.

Most top 40 stations in the 50's,60's and 70's distributed music surveys thru local music stores. Here's a copy of the WKGN survey with me on the cover . Below is the pocket patch taken off the blazer I'm wearing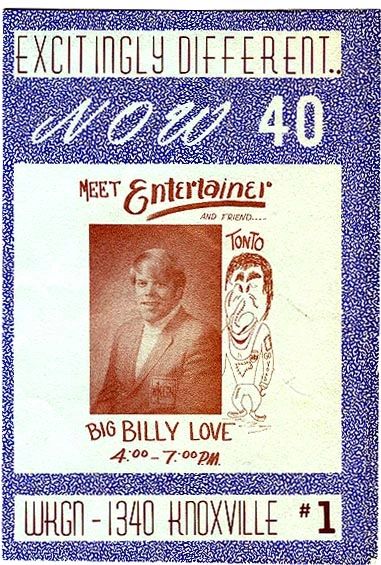 September 1968                         November 1968                        July 1968                                  
Above are some air checks of me on WKGN during that great music year of 1968. Just click to listen