In 1980 I got a call from WOMI/WBKR in Owensboro where I had worked from 1976 to 1978. Soon I found myself as morning drive jock and Program Director of WBKR FM. I came on board at just the right time when country music was getting very hot with great artists like The Oak Ridge Boys, Reba Mcentyre, Crystal Gayle, TG Sheppard, Dolly Parton, Alabama and lots more were becoming very popular.  Within a couple of years WBKR had become the country music powerhouse in Western Kentucky and Southern Indiana. We added a 1000 foot tower and increased power to 100,000 watts.

Even back before I started in radio, I dreamed of taking a microphone and introducing the President of the United States. I never really  thought I would get a chance to actually do it, but it happened. When George H.W. Bush was campaigining in Western Kentucky I  got to walk up to the mike and say "LADIES AND GENTLEMEN---THE PRESIDENT OF THE UNITED STATES!!!!". In this photo I am either clapping for President Bush or picking my nose after having just introduced him.

Here is an Arbitron rating sheet showing Owensboro ratings 25-54 target demo in 1985, 1986 and 1987. Note that WBKR had a 50% share in 1986. It's very hard to find ratings like this now. I sure would like to have a 50 share today!

 I got to be involve
d in the community while at WBKR from 1980 to 1990 including serving on the board of directors of the Voluntary action Center, Owensoro Boys Club and United Way plus be a member of the Lions Club. Our station was always involved in many public service organizations. Here I am as part of the March of Dimes  of 1984. Uncle Owen is getting a free ride. Here's some  grip  and grin photos  with Terri Clark ,Ronnie Milsap and Aaron Tippin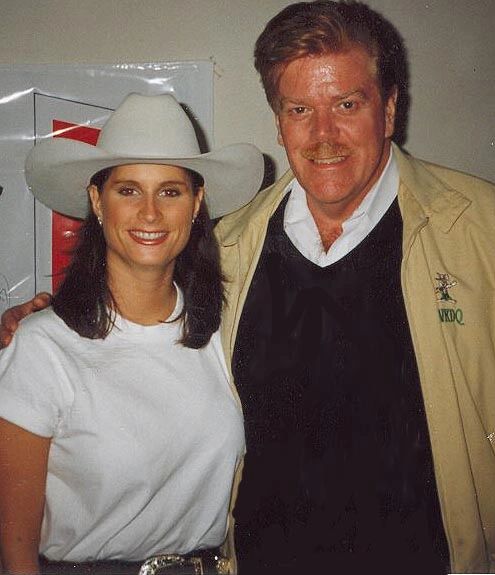 Morning on WOMI   1977 

   In  1977 I got a call from an old High School classmate Dave Silvert whose Father owned and managed WSIP in Paintsville Kentucky where we both started our radio careers. He was Sales Manager of WOMI/WBKR in Owensboro Kentucky and wondered if I'd like to try my hand at programming. WBKR was automated country and we made WOMI "The Rock of Owensboro" and became #1 in 1978. 

WOMI is where the character voice "Uncle Owen" was born. He was presented as an old codger who pretty much said what he thought. I only did the voice on the air starting in 1976 but I added a puppet when I switched to WBKR FM in 1983.

 At left  is one   of our music surveys. The  fellow on the front is John Michaels (John Ivey) , a local
Owensboro boy who was our music director and  all night jock in 1977. Little John has done pretty good for himself- He's currently Clear Channel's Vice President of programming/ Los Angles and an absolute music genius.

The promotion that made WOMI #1 in 1977 was the  " Beatles Book". The Books were distributed by direct mail to most households in Owensboro.  Listeners were instructed to write down in spaces provided each song by the Beatles played during the required period (which corresponded with the yearly Arbitron rating period). We felt that if the listener were keeping the "Beatles Book" side-by-side with the "Arbitron Dairy" they might
be more aware of WOMI. It apparently worked because we became the #1 rated Owensboro station in the next Arbitron.
 
I left Owensboro in 1978 to 1980 to spend a year each at WFBC in Greenville S.C. and WSLR in Akron, Ohio and then returned to Owensboro to program WBKR FM country and also  up on the morning show for 10 years. We increased our power from 50,000 to 100,000 watts and went to a new stick at 1000 feet and became the country powerhouse of Western Kentucky and Southern Indiana. Below  is a WBKR air check from the early 80's.
I had done the voice of my sidekick
"Uncle Owen" starting on WOMI in 1976 but I couldn't use the voice in public appearances without a puppet
..
I was able to add a puppet in 1983 when I was on WBKR. As part of our Christmas Wish program a lady named Betty Abrams donated some handmade dolls for needy children. I asked if she could create a puppet and Uncle Owen was born over 25 years ago. We have made many appearances at country shows, dances, wedding receptions, conventions, schools, remote broadcasts, company picnics, etc..Pictured at left is the front page of the sunday magazinesection of the Evansvlle Courier-Press in 1986.                                                     

All good things must end and in 1992 I left WBKR after 12 years on the air in Owensboro and headed to Chattanooga to be Program Director and morning announcer. After a couple of years there I came back to the Owensboro/Evansville area to WK
DQ in Evansville where I have been ever since.